Description

WARNING:
THIS OFFER IS FOR NEW CUSTOMERS ONLY*
Would you like to try a SoloPosh but some doubts are holding you back?
Maybe you think it's a bag too particular to be worn every day, or that the sequins are very delicate if not downright impractical, or even worse, you are uncertain about the quality and therefore the value of these bags?
We understand,

it's hard to trust a product you don't know yet…
We could list many valid reasons why you should have at least one of our exclusive creations or tell you to look at the many positive reviews, but we won't do it, because we have a better idea:
How about getting one of our bags for FREE,
paying only the shipping cost?
So you will have the opportunity to try it, touch it and test its quality and
if you don't like it, you can return it without losing a single euro!
IT'S AWESOME, ISN'T IT?

🤩
HOW DOES IT WORK:

we reward your trust BY GIFTING YOU one of our fantastic creations
and you play with us by agreeing to IMMEDIATELY receive a SoloPosh TRY ME,
that is a SURPRISE MINIPOSH
among all these variants:
Yes, you got it right: the model you will receive is SURPRISE, AMONG ALL THE MINIPOSH that you have just seen roll, based on their availability at the order time*.
You will be able to TRY WITHOUT RISK one of our splendid models from the collection,
touch it, test its quality and… well, then there's always the surprise!
THE KEYPOSH IS NOT INCLUDED IN THE TRY ME OFFER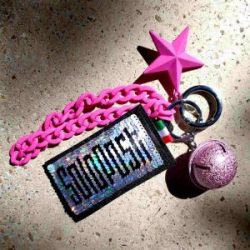 To get it, follow the instructions when ordering the Try Me, otherwise it will be impossible to find it in the shop!
WHAT THE SOLOPOSH TRY ME OFFER INCLUDES::
– a surprise MiniPosh bag, among all the available variants that we have just shown you;
– a fabric drawstring bag , to store and keep the it in your wardrobe or suitcase.
With SoloPosh Try Me,
YOU WILL FIND OUT THAT
ALL OUR CREATIONS ARE:
– a singular bag for originality and refinement, handmade with precious, resistant and first quality fabrics;
– embellished with glittering and customizable double-sided sequins in a limited edition;
– ideal to wear at any time of the day;
– roomy, comfortable, light and completely washable;
– the ideal choice for those who love to be avant-garde and always feel unique and special!
What are you waiting for to unwrap this GIFT too?
Know that YOU RISK NOTHING,
because if you don't like it,
YOU CAN CHANGE YOUR MIND and GET YOUR MONEY BACK!*
However, remember that the STOCK of SoloPosh Try Me is LIMITED!
WHY ARE WE OFFERING YOU THIS OPPORTUNITY?
To allow you to try, touch, test the quality of SoloPosh and really understand how it feels to have such an irresistible bag, full of charm and capable of making chic even the most basic of looks!
In fact, it would be impossible to explain it in words: yes, because it is such a beautiful and particular feeling that, if you have never experienced it, not even the most famous of the influencers would be able to describe it to you!
In short: IF YOU DON'T HAVE IT, YOU CANNOT UNDERSTAND and that's why we want you to try too!
WHY IS THE BAG A SURPRISE?

Precisely because the premise on which SoloPosh Try Me is based is to give you the opportunity to try a SoloPosh and to understand what it means to have one and this does not depend on the style!
And then, let's face it: if you're here, you have been seduced by these bags too and you want one, so don't you like the idea of unwrapping it with curiosity and the euphoria of a surprise?
HERE'S WHAT THOSE WHO ALREADY RECEIVED THINK OF IT:
After so much indecision about the models (which I liked all of them 😅) I took the Try Me, colors and designs are real and bright as in the photo! I'm sure I'll be ordering more soon! Hahahahah!
Just arrived, it's very beautiful and well finished 🥰
Stefania Fronza
28/02/2023
Do you still have any doubts?
Then know that the bag you are about to receive:
– It is NEVER a left over stock

– it is always part of the CURRENT COLLECTION
– It is NEVER a defective or second choice product

– it is always NEW and IRRESISTIBLE
… your fantastic SoloPosh is ready to reach you!*

Do you have questions?
Do you need more information?
Contact us NOW on WhatsApp (the icon is on the side) and you will get all the answers you want IN REAL TIME!
*Before ordering MAKE SURE YOU APPRECIATE ALL OUR PRODUCTS, browsing the STORE and checking that all the features of MiniPosh are to your liking.
In fact, we remind you that the premise on which this special offer is based is only to let you directly test the value of SoloPosh products.
For this reason:
– if the pattern of the bag you will receive as a surprise is not to your taste, no complaints will be accepted, because, regardless of the pattern, you will be perfectly able to evaluate the product;
– in case you have already purchased this special offer, any further order of the Try Me product will be cancelled, because you have already had the opportunity to take your test.
Do you want to share this offer?

NO PROBLEM,
but do it now because
AVAILABILITY is LIMITED!
Here are the share buttons for you!
If instead you are looking for other SHOCK PROMOTIONS…